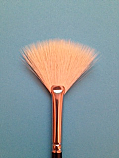 See details
Soft White Goat Fan - 385PC
Soft Goat Fan Brush is used for Soft Blending, Finishing, Dusting, Powder. Also used to apply Facial and Body Masks.
---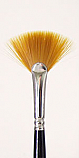 See details
Golden Taklon Fan - 380PC
This Fan is made with a soft Synthetic Golden Taklon. Use as a Finishing Brush and Duster. Also Used in Spa Treatments. Smaller sizes used for face painting to create butterflies, fur, or texture.
---